GiftOn is community where people share their personal stories about great gifts they have given or received. Its main avenue is humanizing gift inspiration.
It is a narrow scope, but it was the constraint we were given. Previous UX projects had tried a marketplace solution only to be turned down. Monetization was in the cards down the road, but not in the present. 
Our job as UX designers was to create an intrinsically attractive medium for people to share and read amazing inspirational gift-giving stories.
Competitive Analysis
Having known the market is saturated with plenty of options for gift shopping, we needed to understand exactly where GiftOn fits in their environment.
We have the y-axis ranging from inspirational to transaction, and the x-axis ranging from general to personal. This allowed us to sort through the large variety of gift related websites. It was effective to separate from giant e-commerce sites like Amazon while still considering where more inspiration based companies such as pinterest.
Since our scope was going to stay in a highly personal area, we wanted to discover what elements of these qualities can serve GiftOn from an objective point of view.
Objective Insight
Before diving into our user interviews, we wanted to get a quick grasp on what makes stories and communities attractive from a bird's eye view. We inherently know stories and communities are interesting, we just wanted to dig into the why.
For our scope, we will need people to share their stories and be interested reading them too. Through desktop research, we found that:

With our basic understanding of where GiftOn exists and how they can capitalize their strengths, we used this information to mold our interview questions.
Speaking with our users
It was important to look back on GiftOn's
previous UX projects
before starting our user interviews. This was due to the audience focus. Previous UX projects targeted users who labeled themselves as "bad gift givers". Unsurprisingly, those users were apathetic about visiting a gift giving community. They just didn't care, which circles around to their self-diagnosed label of bad gift-givers.

Due to our client's scope, we decided it would be wise to operate under the assumption that
mostly great gift givers will be using this site
. Only this audience will possess the sustained effort, interest, and belief required to give an exceptional gift. This audience will care the most about reading and sharing inspiration.
We asked our great givers a few questions to fill the gaps in our research:

We mapped out our major finds and pulled them from the space that GiftOn exists - the inspirational portion of gift-giving.
After our interviews and a healthy round of affinity mapping we came away with a
five major insights
that summarized our users:
1. A captivating story has an emotional story arc and satisfactory resolution
Many people explained that a great story has thought, intention, and an element of surprise. This is what kept users hooked and eager to read more stories.
2. Tone is especially important for building a strong community
People find the overall tone and expectation of a community to be a large weighting factor for their continued involvement. A large community cannot be disrespectful by default - or allow inappropriate comments to slide without reprimand. This will often hurt the likelihood of sharing.
3. Thoughtful give givers place tremendous amount of pressure on themselves to give meaningful and personalized gifts.
Unfortunately this pressure often categorizes a great gift-giver. They feel it's an obligation and priority for their gift to represent the relationship of their recipient. If the gift falls short, our interviewees feared it would poorly reflect their history with that person. It's therefore our job to make the inspirational process stress-free and comforting.
4. Users are most motivated to contribute when they feel they have something to offer, and that their knowledge will be appreciated.
People liked to be appreciated for their input. They are more likely to contribute if they're voice is valued. However, it's important to note that some people will never contribute no matter the circumstances. Great design will not impact those users. Our aim is then to create a great community that will help those who are comfortable sharing their story.
5. Gift giving is highly contextualized. The factors that matter most will vary on a case-to-case basis.
We realized that we cannot possibly put all gift-giving scenarios into a one basket solution. Everyone has their different approach for giving a great gift because all relationships are unique. Our job is then to design for the majority of cases.
Summary
Our group felt our interviews went exceptionally well. We gathered five sturdy insights. Most importantly,
our assumption ended up being correct
-
only great gift-givers will be interested in this community. 
We realized that in order for a storytelling community to exist, it must have a healthy atmosphere that motivates users to share a
compelling
story.
We also realized that there will be users who are
contributors
 and users who will never contribute, regardless of design. That aligned with our objective landmark research, where most people will be non-contributors - lurkers. With our insights, we developed two personas and a journey map to encapsulate our research.
Creating actionable deliverables
To help both our group and client with our understanding and progression, we created these personifications and visuals to guide our project for its next phase.
•  Non-contributor.
P
refers to only read about gift inspiration.
•  Enjoys the challenge of putting together the right gift
•  More inclined to read real stories so she can get a glimpse into other's lives
•  "Listicles" (numbered inspiration articles) are sometimes helpful, but feel impersonal

•  Contributor.
Enjoys sharing her ideas online with respectful, like-minded people
•  Is a conscientious gift giver, believing in personalized gifts
•  Finds satisfaction sharing her experiences to help others
•  Shares her thoughts in hopes it will provide others a new perspective
Summary
It's an important distinction to remember that more people will be readers than contributors. That's the nature of online communities - now reflected through our interviews. This means the tone of community will be especially important in order to encourage the contributors to share their stories for others to enjoy.
Journey Map
We then explored
where
in the timeline of buying a gift that GiftOn exists and where the frustrations and goals lie. We illustrated these factors when searching for gift inspiration.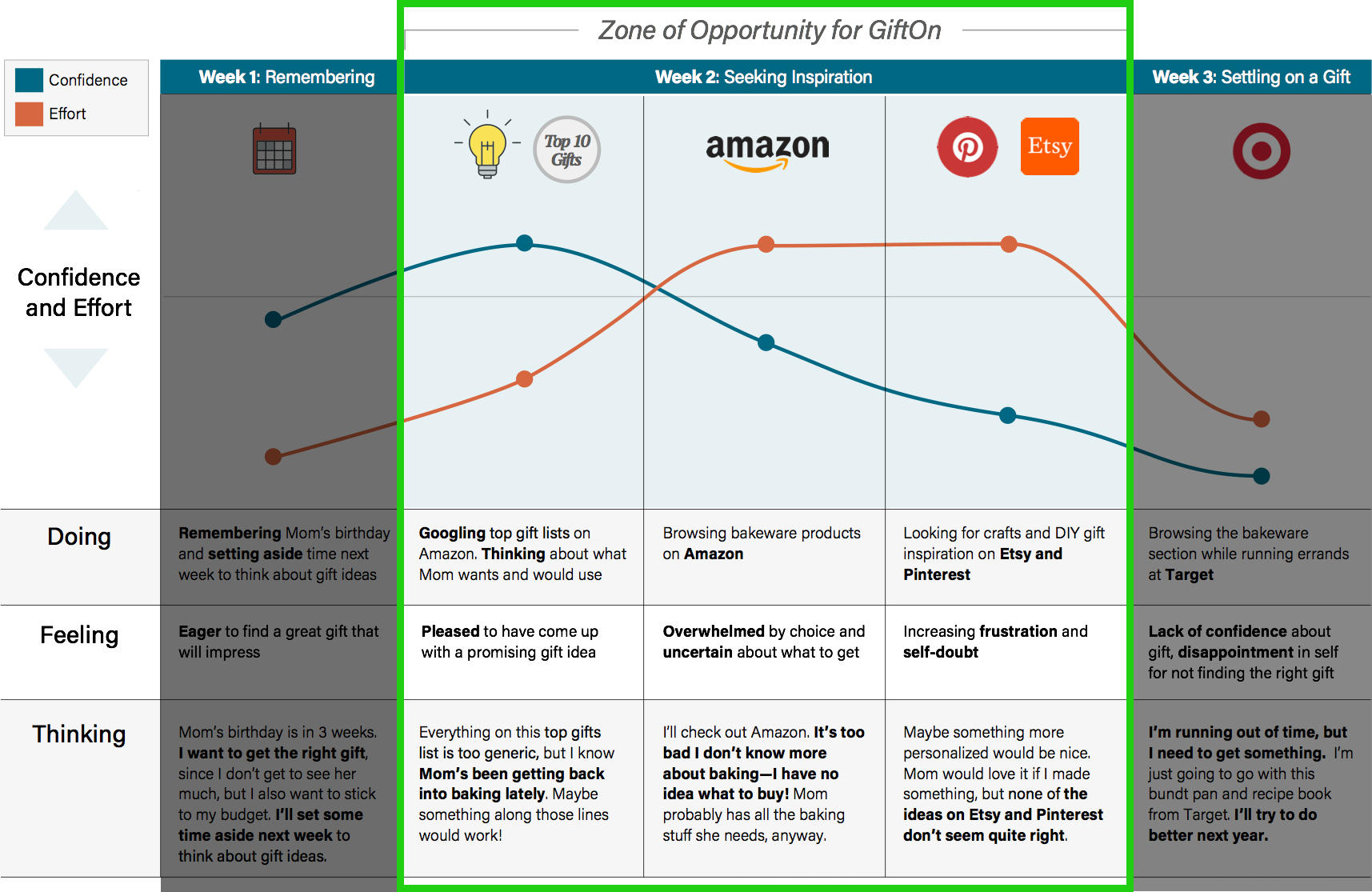 As the date gets closer to buying a gift, the anxiety about gift-giving increases due to the lack of humanized gift-giving suggests. Most of suggestions are saturated with promoted and paid advertising. An impersonal gift isn't a great gift.
This is where GiftOn can shine by providing a community that isn't promoting products with a paid agenda. It can be a place where dozens of stories exist about a certain holiday, event, or personality type. From here gift-givers can be sparked with inspiration as they
relate it to their own situation and creativity
.
Setting the foundation
At this point in the project we have all the ingredients from our users. It's now time to distill them into actionable principles and statements. 
We know great gifts are tailored toward the recipients interests, personality, and relationship with the gift-giver. Additionally, this community can also provide another element, an
entertaining platform
for people to read captivating stories.
With these overarching characteristics in mind, we developed our problem statement:
How might we create an interactive and engaging story-based community that inspires people to give meaningful gifts, and exchange their gift-giving experiences?
This was a large landmark that drove all future decisions. We then developed our design principles that best encompassed the future of GiftOn.
Summary
These written guides highlight our scope. This community
will not be promoting specific products.
Instead it will be a low-pressure, inviting, a respectful community that will allow others to share without any discomfort. Overall, these principles should ensure there is nothing repulsive about the site - ensuring an entirely humanistic experience.
Creating new concepts
Our group was confident with our great foundation to build upon. We were eager to start sketching. Dozens of ideas were sketched, discussed, and voted.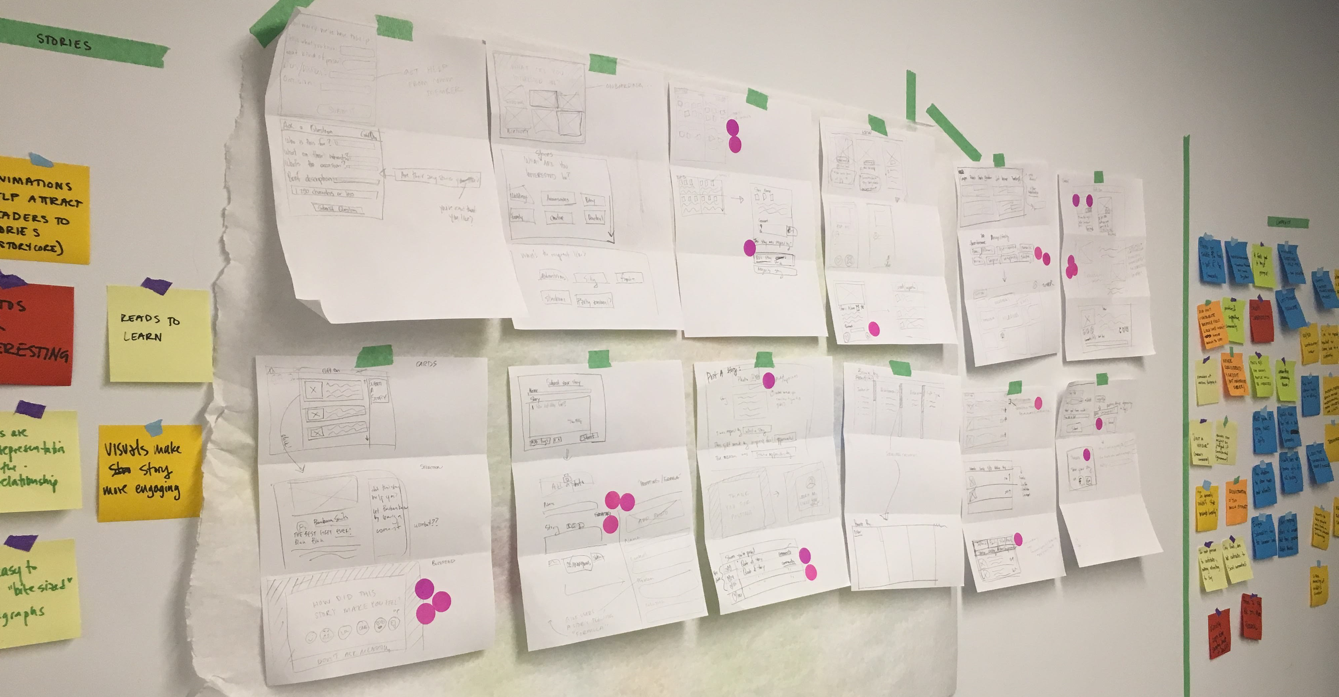 We wanted to focus on three areas that will be the centerpiece of our design:
1.
Dashboard, including discovery and categorization
Keeping these

three ideas

in mind during our sketching, we uncovered 

three concepts

which addressed our foundation. We named these concepts as existing websites so our client could relate with them easier. These concept names

explained the layout of the dashboard.
Prototype #1 - Pinterest
Like Pinterest's design pattern, this concept presents our stories with cards, infinite scrolling, and overall a large potential for categorization and browsing.
Prototype #2 - Reddit
This concept has a list-view dashboard showcasing the stories, with an emphasis on up-voting and commenting as a major action.
This concepts also tests a two-tiered navigation approach. When you click on the top tier navigation, it populates another row below to select from.
Prototype #3 - Buzzfeed
This concept takes the full range of emoji reactions from Buzzfeed and embeds it into a newspaper inspired layout.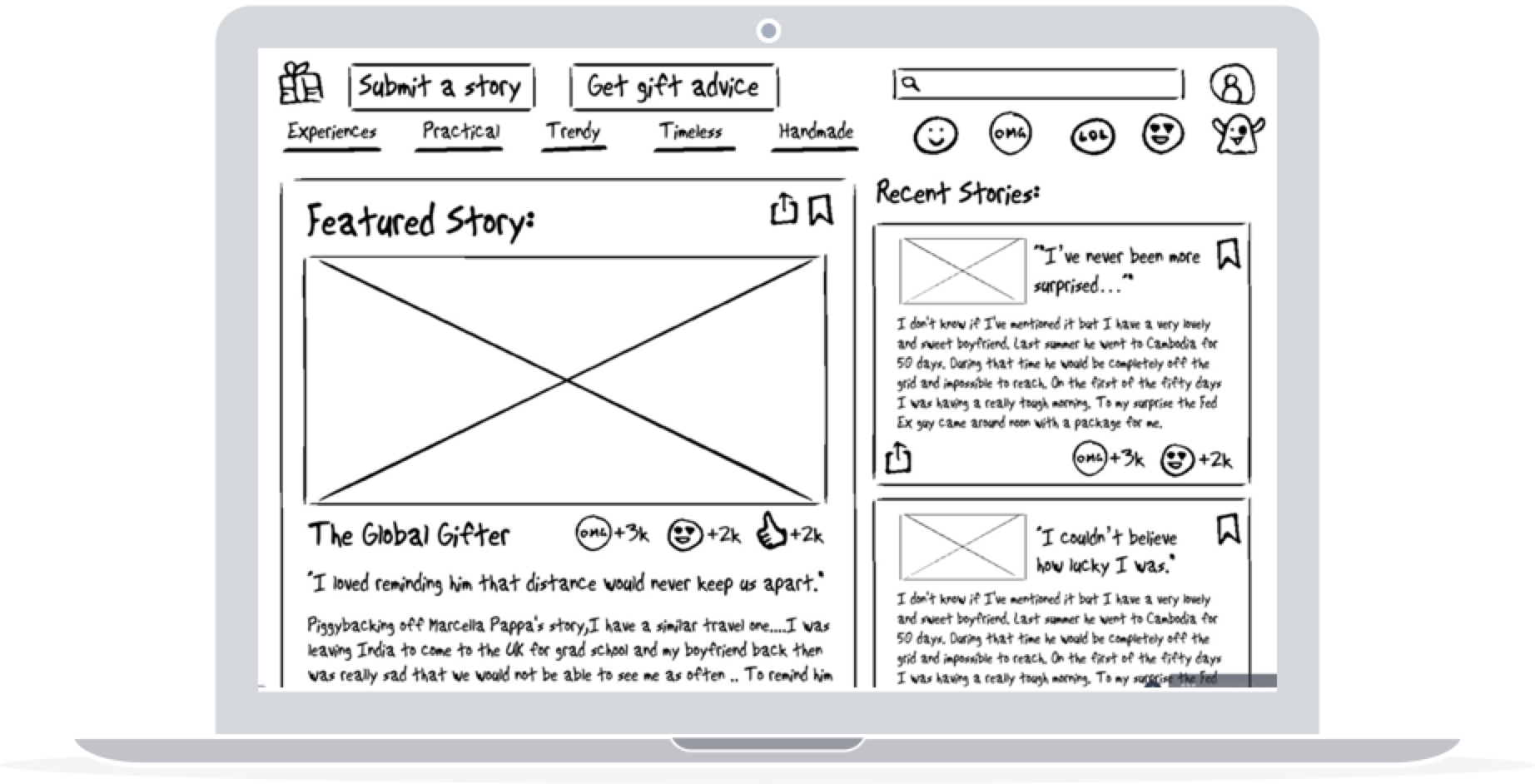 Testing low-fidelity prototypes
When testing our prototypes we asked our great gift-givers questions that test if our concepts align with our foundation. Our overarching questions:

Prototype Results: "Pinterest"
This prototype excelled from its logical card styled approach of presenting stories - promoting browsing. The card format of story content fit exceptionally well within the dashboard.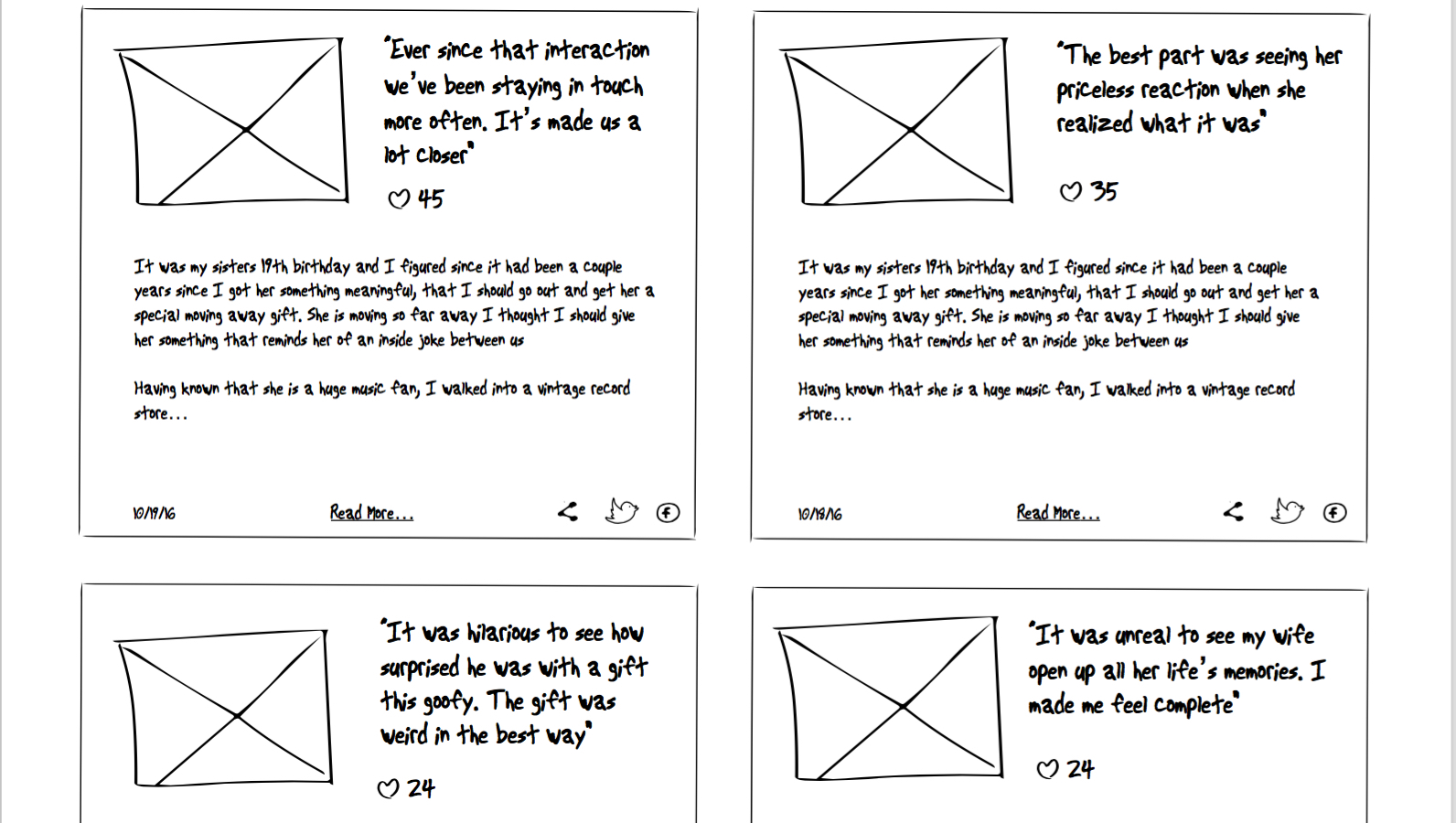 Overall users responded very positively to this presentation. The title with quote combination was also great for drawing attention as users skimmed.

Prototype Results: "Reddit"
This prototype presented powerful and capable categorization with its two-tiered navigation bar. The high level category followed by a classification resonated well with users. This categorization adheres to our
autonomous discovery
and the
do one thing well
 principles.
It also shined with its single story view columns. Users really enjoyed the related stories sidebar. They felt it was something they would use for other inspirational ideas without having to backtrack.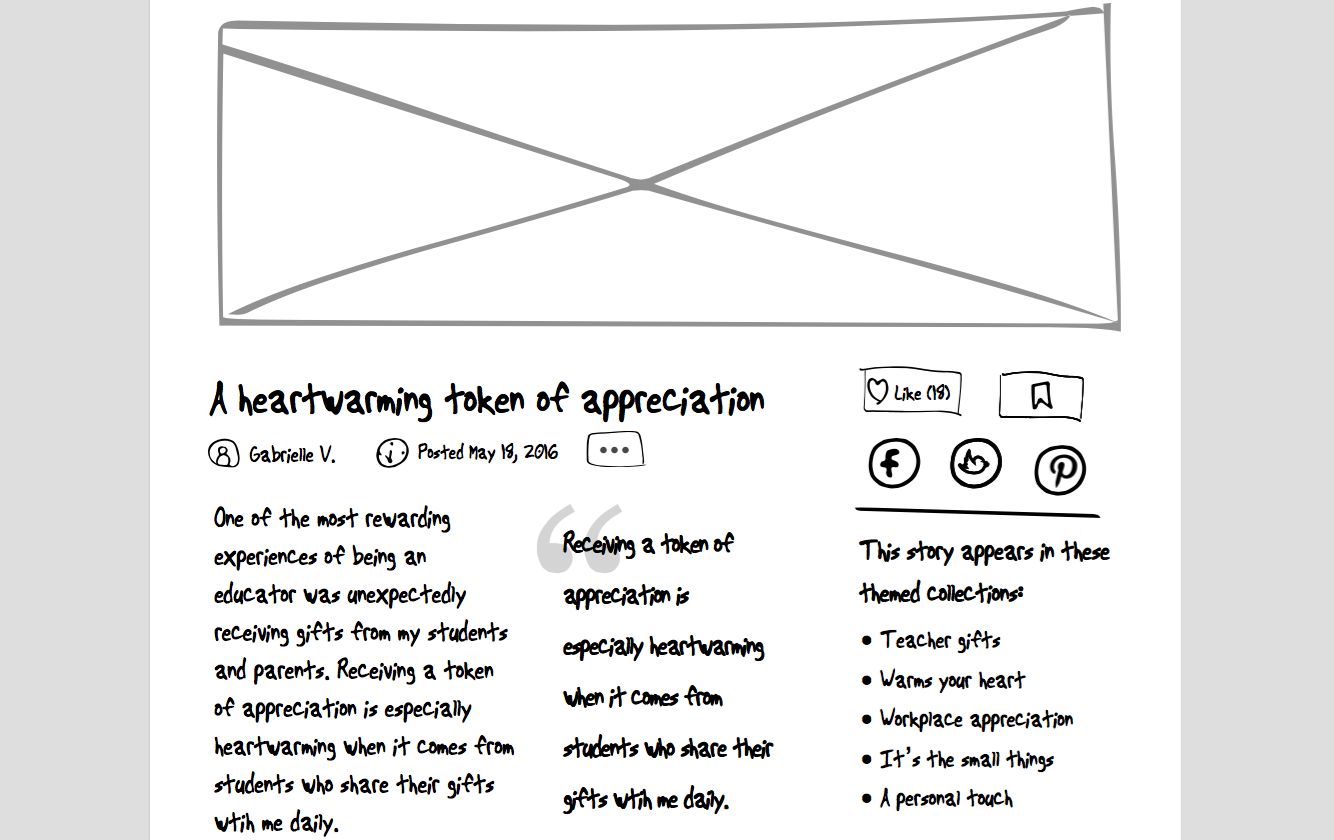 The last aspect users enjoyed was a mid-page banner that prompted the user to share a story by offering ideas. This created a sense of community with users.
Prototype Results: "Buzzfeed"
The reaction to the emojis for this prototype was very polarized. Users either loved or hated them. Thankfully a high majority of users ended up loving them. They felt it added a layer of fun and sense of community - embracing our
put people first
and
create a cozy environment
principles.
Another idea that tested well here was the featured story. This drew the eye to the most popular story of the page. Users really enjoyed the popular story. It encouraged them to read on.
Lastly, where the Buzzfeed concept stood out was the submit a story page. It contained formatting options, a sidebar which explains what each step means, and a story prompt front and center. Users felt compelled to share their story with these factors.
Summary of results
What did we come away with? Thankfully all of our concepts received positive remarks with our three main areas. Our overall takeaways moving forward:

With our findings showing positive remarks in all three areas, it was time to move onto our final stage of this project, creating final mid-fidelity wireframes.
The final wireframes
We began to fine tune our future direction by applying the lessons from our concept testing. We began with printing everything out and discussing how we can align our design decisions.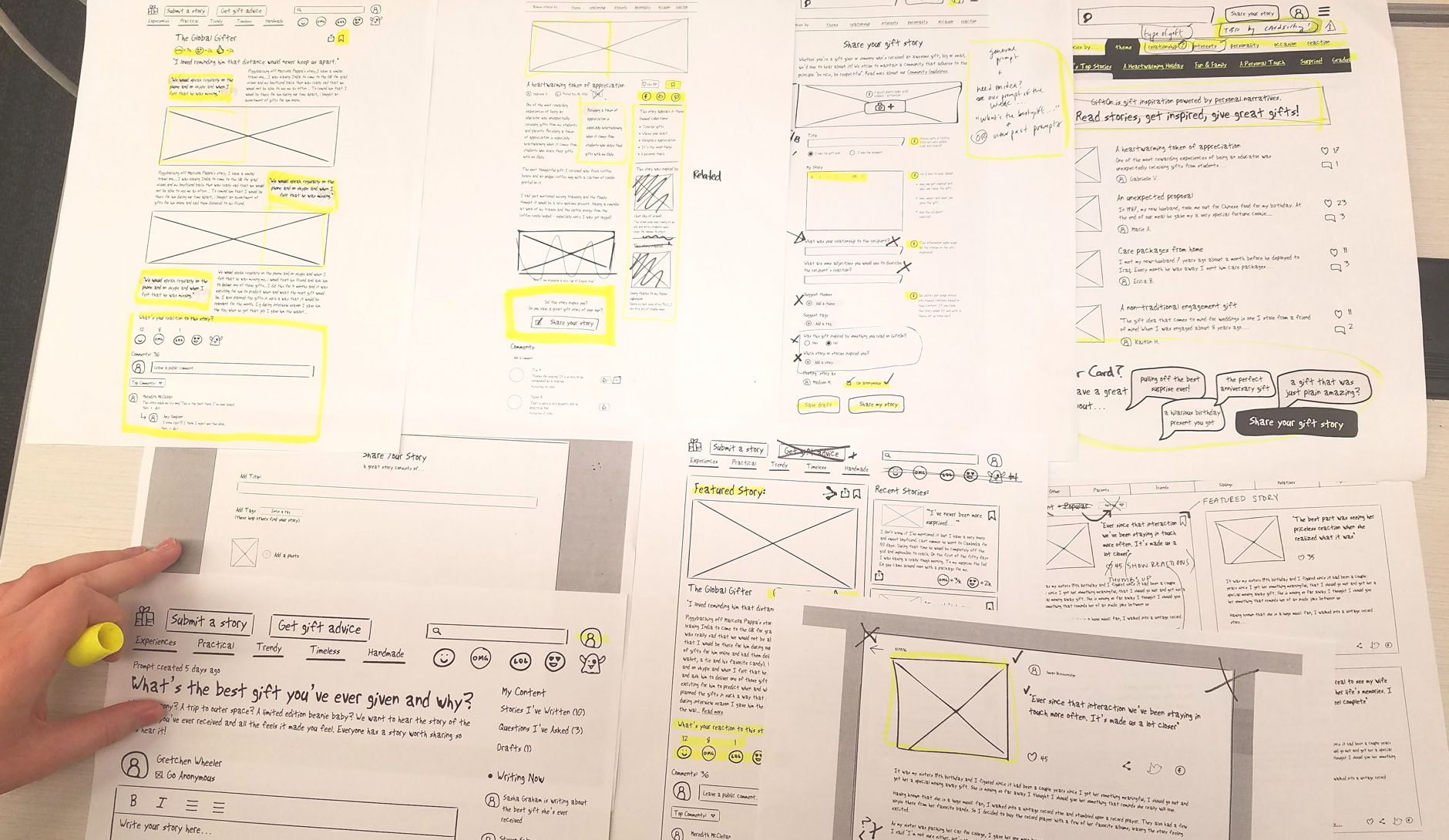 This stage was incredibly important. After discussion from all angles, we decided that the heart of our design, the dashboard, will embrace the card layout style of the
Pinterest concept.
Users responded most positively to this card-styled dashboard design solution. 
From there we circled outward, filling in the two other major pages, viewing a single story, and submitting a story.
Dashboard Solution
Starting from the the top, we have our menu, bookmark, and profile icons easily accessible in the upper right hand corner.

Directly below we have implemented the two-tier dashboard, based off our card sorting. Our
card sorting
tested over a dozen users and asked them to categorize their gifts. From here we created a user-centered navigation bar.
This navigation bar will only the show the high level tier as the default. Once you click on a high level category, it will pop out the second tier navigation. From here results can be drilled down further.
Staying true to our concept results, we implemented a
card view layout
onto the dashboard and paired it with a featured story. Additionally, users can react to these stories with a number of
emojis
from the dashboard.
Our dashboard tested exceptionally well with our users. The only change we made after our usability testing was making the top corner of our website present the bookmarks. Saving a story was a highly desired feature throughout testing.
We wanted this page to have a certain visual hierarchy. We wanted the user to first see the title, then the quote, and then focus on the story. Afterwards they should notice the comments, reactions, and then side bar actions. We achieved this by putting most of the visual weight on the left hand side where the story exists with a large quote grabbing interest.
As the user finishes reading the story, the user can then view a related story or save it for later. Our sidebar allows users to bookmark a story, share, or see stories that share a similar tag.

The user can then react with our well-tested emoji reactions. They can also comment on this story or reply to other commenters. The comments in this prototype will be moderated to ensure they follow our principles of a cozy and respectful environment.
This is the first page you see when submitting a story. It begins with high level guidance that aims to encourage the user along the way.
Our story section has helper text on the right hand side to guide the user through the writing process. To curb writer's block, this text provides ideas and walks them through their thoughts. Keeping the process light and happy adheres directly to our design principles.
The submission section has a formatting toolbar which all users loved. Users were delighted to see they could alter their text to different sizes, weights, and fonts to match their voice and message. 
Users especially enjoyed the ability to preview their story before posting. It ensures it will be as they intended to create it.
As our client required, we added a bit of text explaining that each story will be under review to ensure it follows the respectful community guidelines. This already aligns with our principles of an active and welcoming community, and users agreed without hesitation.
After the story has been submitted we added a large submission banner to ensure the user knows their writing has been received. 

Final thoughts
At this point we have completed the full user flow of this community website! 
Throughout the project, our group consistently commented how fun this was to design. Personally I loved the subject and felt this type of community is precisely the digital medium that benefits most from UX research and design. 
I felt I really grew as a UX designer during this project. The progression from one phase of ideation to the next was both smooth and natural. I especially enjoyed speaking with our users and uncovering their unique thoughts and opinions revolving around storytelling and gift-giving.
Future considerations
This project is currently in development.
This project will benefit from additional usability testing. Due to our short and intense scope, we handed off our wireframes knowing our designs could benefit from additional testing. We ensured to keep this communication clear in our final presentation and also within the annotated final wireframe deliverables.
Even more important, as this project molds and grows after it's launch, GiftOn will need to address the reality that most users expect products to be purchased directly from their site. We believe this can be embedded into the design without taking away from the community. For example, a subtle link within the stories would be a great way to maintain authenticity while providing the user with the mentioned product. It's a win-win.
Overall, it was an incredible and challenging project. I can't wait to see the site live.